Apartment in Karmel Tzarfati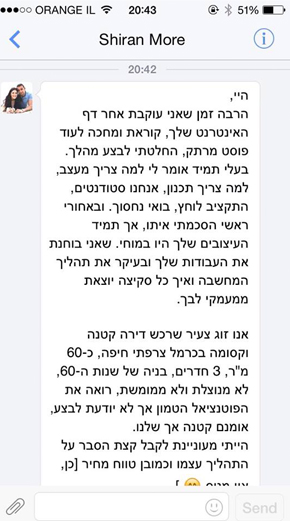 What do they think about me
Dear Ela,
It started around September, when we have decided that it is time for a change. We searched, deliberated, and then ended up in your site. From that moment on all is history…
An old apartment in a quite area in the French Carmel that we have seen ourselves living in together, just couldn't see how J and here is where you came in.
You took upon yourself a challenging task, and we wanted to be included physically in the actual work. However, after the second meeting we already had ha plan!
Your charming team pulled together instantly and stared working.
Wafi, the contractor, who did the demolition and construction, always smiling at us and at the neighbors while being helpful finding solutions.
Haim, the carpenter, who designed and built a masterpiece kitchen, a pantry and a gorgeous color bathroom cabinet. Having said this, the kitchen was the most challenging part of the work.
Amran, who made every window into an experience and found a creative solution for the pantry window.
3 months after the first meeting we had an amazing apartment! It was converted from a 60's catastrophe into a modern, spacious, warm apartment, with calm country atmosphere. Just like we wanted. Anyone who will see the before pictures will not believe it is the same apartment.
All that we have left to say to you, who knew how to flow with every crazy idea we had knew when to ease our minds and let us trust her, is simply – thank you!
Kind regards,
Ron Dadon
How did it look before